BRINGING OUR RANCH TO YOU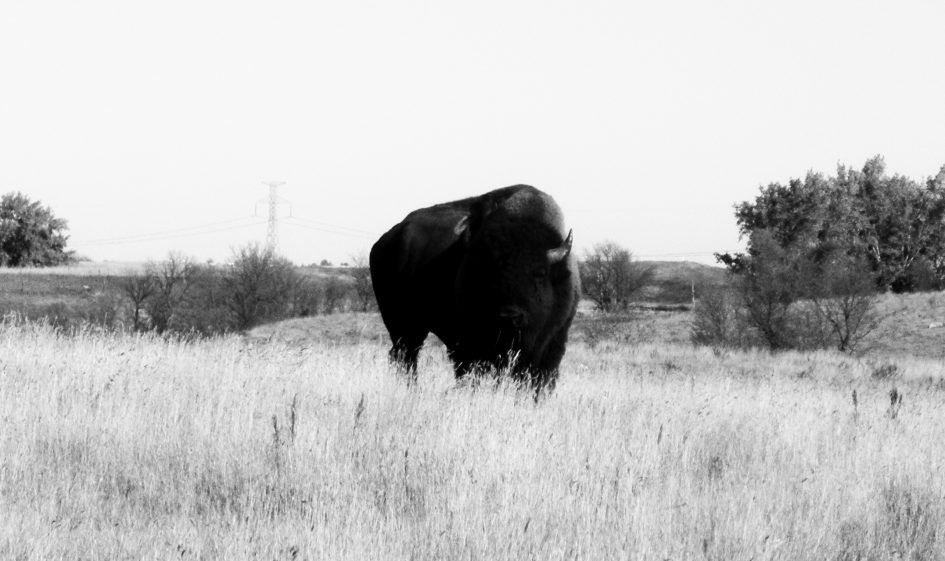 March 2018
This winter on the Ranch has been memorable from a great Thanksgiving with family to some of the most harsh weather mother nature could pass on to one. We had a mild fall with the annual sorting of the calves December 3rd that was a tough sort on all especially myself with being hit and run over by a bison cow. I obliviously survived with only sustaining a few busied ribs and one heck of a black eye. Ms cow walked away without a scratch on her but the experience has left me just a little more cautious in nature.
The winter has been very cold, with having to plug in tractors to keep them warm for start up in the mornings. For the most part we had very little snow, but the very fridge temps of -30 below at times for a duration of a few months. This made it difficult for us folk but the Bison seemed to be at home in it, even with winter snow covered coats they are resilient.
It wasn't until March when the weather hit. We all were somewhat spoiled as the
little snow drifts started to melt and spring was in the air with robins among us. March came in like a lion and covered the ranch with 14 inches of heavy wet snow and that was only the binging of what God was to bring.
With preparations before hand, snowblowers were installed on tractors, feeders were filled, and straw bales were put in for bedding for all the animals. Little did we know the fate we would find as the snow hit and the ranch was buried under inches of heavy wet snow. With snow comes the digging out process, with shovels in hand and loader tractors, a morning of moving snow before chores could begin.
Since then we have had a few more snow storms come through creating not only difficulties on the ranch but school closings as well. While we do need the moisture many are ready for April showers and May flowers. With it being April now, and snow on the ground with single digits temps, we pray for our fellow ranchers as well for ourselves for a great calving season. God Bless this Ranch